Dear Friend,
we are sharing the 6th edition of our
quarterly magazine with you
PROJECTS FOCUS
Updates and insights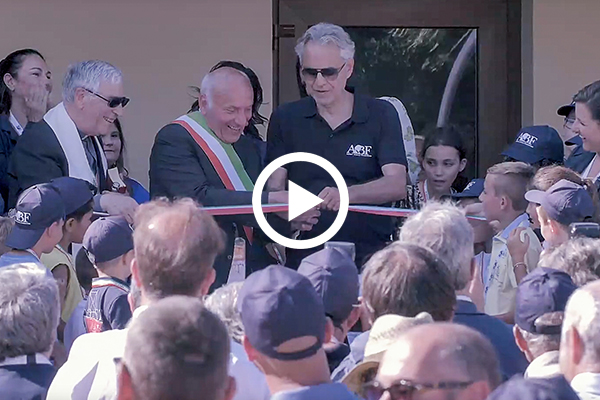 Muccia starts again thanks to the school from ABF
The new school that was built in 150 days thanks to the funds and supervision of the Bocelli Foundation has been inaugurated. Local administrations and artists were headed up by the famous singer at the ribbon-cutting ceremony. The founder's rendition of the Italian national anthem was extremely moving. This is a celebration that gives a future back to this Marche town which has been affected by the earthquake. The event drew a huge crowd of people and, for the philanthropic tenor, the gratitude of an entire community...
READ MORE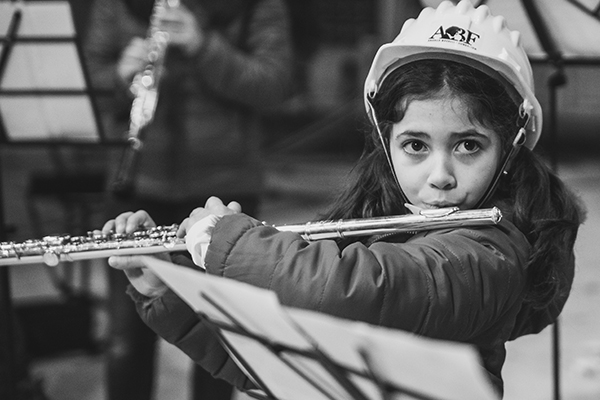 ABF in Camerino for the new post-2016 eathquake reconstruction project
An integrated project system: after the Sarnano high school with a musical curricula, and after the Muccia pre-school and elementary school, the Andrea Bocelli Foundation is concentrating its efforts on Camerino, a picturesque town in the Marche region that was one of the places most affected by the 2016 earthquake, in order to build a new music-centered school, operating within an agreement with the Conservatory of Fermo.
The SMS Solidarity Campaign will be dedicated to this new exciting project and will be active from July 24 until August 3, 2019. By dialing 45580 from Italian phones lines you can donate 2 euro (cell phones) or 5 euro (from landline)...
READ MORE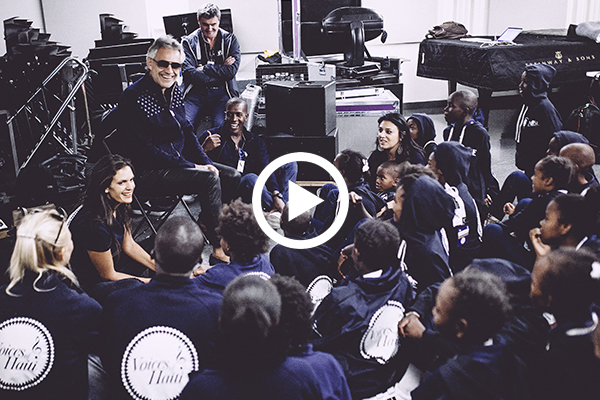 Voices of Haiti: towards the end of the first academic cycle
After five years of activity, of projects and results achieved in partnership with the local team Fondation St. Luc, from access to education to health care, commodities and prevention, we are celebrating the completion of the first school cycle concerning the choral training of "Voices of Haiti"...
READ MORE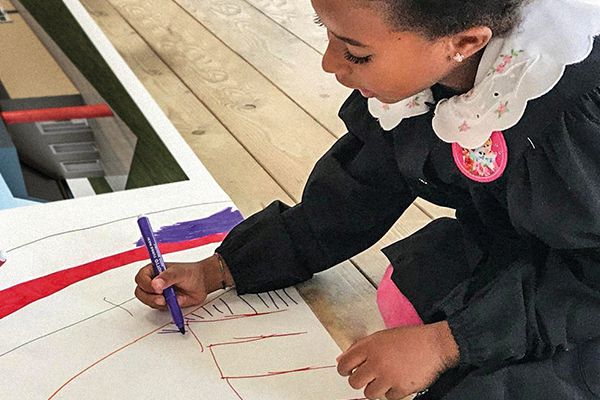 ABF report 2018 - Letter from the Founder
On the occasion of the publication of the usual ABF Annual Report, we are always happy and honored to be able to host, at the beginning, a testimony of our founder. This document gives us all valuable insights, for a rational evaluation of what has been done - and above all - what can be done better in the future. We therefore also share here the words of Andrea Bocelli, to take stock of the recent past, while - with renewed energy - we are projected towards the many, exciting future projects. ...
READ MORE
POINT OF VIEW

Authoritative protagonists of our times

Paolo Giordano interviews the Director of the Music Academy of Camerino Vincenzo Correnti

The help that ABF has given and continues to give to our struggling local areas with the Music School project represents the proof and hope for rebirth...

READ MORE
TO OUR SIDE

Testimonials and collaborations

-"Yes - Let's Make Music Together": Sarnano, one year after the inauguration

Over 500 students from schools with a music curricula and dance high schools in the Marche region gathered on May 29 at the "G. Leopardi" school...

READ MORE
ROUTES

Initiatives, news and events

 

Celebrity Fight Night in Italy is back, but this time in July

This will be a special edition: no longer held in September, Celebrity Fight Night in Italy 2019 will take place in July and thus be surrounded by the stunning views bestowed by the height of Tuscan summer...

READ MORE

Teatro del Silenzio 2019: ABF dedicates its foundraising initiative to the Camerino Project

For the 14th edition of the Teatro del Silenzio, from July 25 to 28, the Andrea Bocelli Foundation will have the chance to recount its work to the many people who will be in Lajatico, who have come from all over the world so as to not miss the anticipated concert held in our founder's hometown...

READ MORE

With "Chopard" at Pitti Immagine, an exhibition about the reconstruction of the Muccia school

A photographic exhibition that documents the 150 days it took ABF to rebuild the "E. De Amicis" pre-school and elementary school. This is what happened last June 20 and 21 in Florence, at the international childrenswear exhibition "Pitti Immagine Bimbo"...

READ MORE

Veronica Berti, Vice-Chair, guest at the Smart Future Academy

On May 7, our Vice-Chair was invited to speak in Florence, in front of the Odeon audience packed with students, at a meeting organized by the Smart Future Academy. The project was created to help young people understand themselves and "what they want to do when they grow up", thanks to the encounter with important personalities from the professional world...

READ MORE
| | |
| --- | --- |
| | Follow Us On: |