Dear Friend,
we are sharing the 8th edition of our
quarterly magazine with you
PROJECTS FOCUS
Updates and insights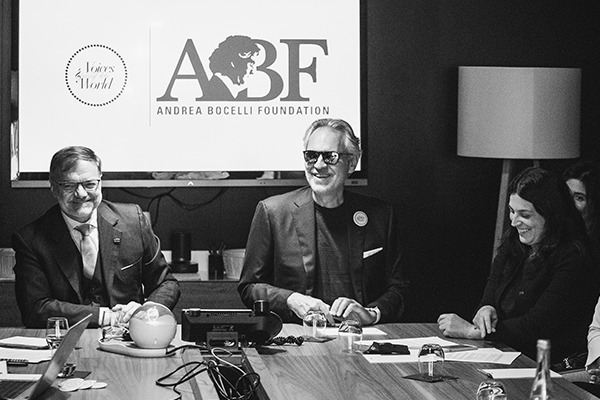 The new project "Voices of the World": Empowering Young People Through Music Education
Voices of the World is an ambitious undertaking, a strategic program that will span several years that aims to offer empowerment opportunities to young people, through music education in vulnerable regions.
The project, which ABF has been working on for five years now, was officially launched on November 13, 2019 at UNESCO headquarters in Paris...
READ MORE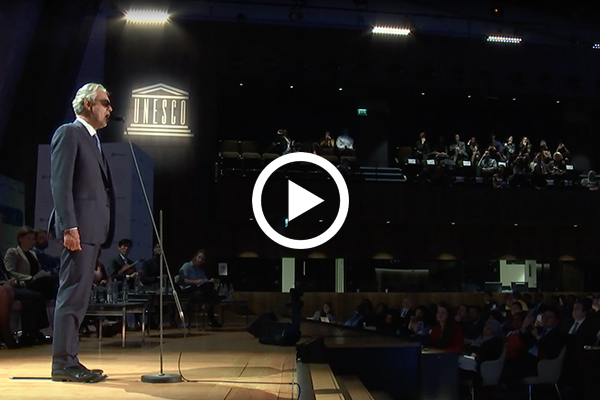 ABF and UNESCO together for Symphony 2030
On November 13, 2019, a round table called "Symphony 2030: Creative Arts Education for Inclusion" was held in the margins of the 40th General Conference of the United Nations, which took place at UNESCO's headquarters in Paris, virtually in front of its global community of 193 member states...
READ MORE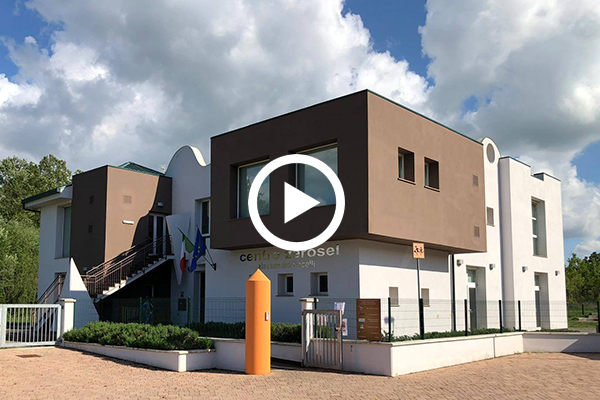 Music Lab: Abf for Lajatico
The story we are about to tell, however, takes a different route. It is set in a white, orange and brown two-story building and our protagonists are in Via della Musica, in the Tuscan countryside.
This is no imaginary story, even though imagination has made it flourish, and just like every fairy tale, it carries with it a gem, its underlying moral...
READ MORE
POINT OF VIEW

Authoritative protagonists of our times

Stefania Giannini's interview (UNESCO) with our Founder, Andrea Bocelli

I think that music is a potential source of spiritual development and that knowing the musical language is extremely useful for everyone, not just those who would like to make it their profession. It is a lifelong friend...

READ MORE
TO OUR SIDE

Testimonials and collaborations

Maria Manetti Shrem: ABF Ambassador

My name is Maria Manetti Shrem and I am proud to be an Andrea Bocelli Foundation Ambassadress. I live in San Francisco, California and Florence, Italy. I am a patron of the arts and music, and a benefactor for causes related to education and health, internationally and in my local community...

READ MORE
ROUTES

Initiatives, news and events

 

ABF with Community Jameel for the Royal College of Music

An international scholarship that will open the doors of the Royal College of Music (RCM) in London to emerging singers who would otherwise be unable to access it or continue their training at this institution due to social or financial reasons...

READ MORE

2019 Christmas Campaign

If you are organizing a Christmas dinner with your colleagues or friends or playing tombola with the family, from today you can choose to dedicate it to the Andrea Bocelli Foundation! Choose to brighten up your Christmas holidays and New Year by supporting ABF's projects to help people in need due to illness, poverty and social exclusion...

READ MORE

The green light for the Camerino Music Academy

The new Music Academy will be built on two levels, which will be connected by an internal elevator. Architecturally, it will be a modern, yet understated building, which will feature a stylized visual allusion to the unique "keys" of wind instruments in its series of openings to the exterior...

READ MORE
 
| | |
| --- | --- |
| | Follow Us On: |